Shammah Outreach Ministries' Revival House of Glory Apostolic Center 

Report

 – CANADA!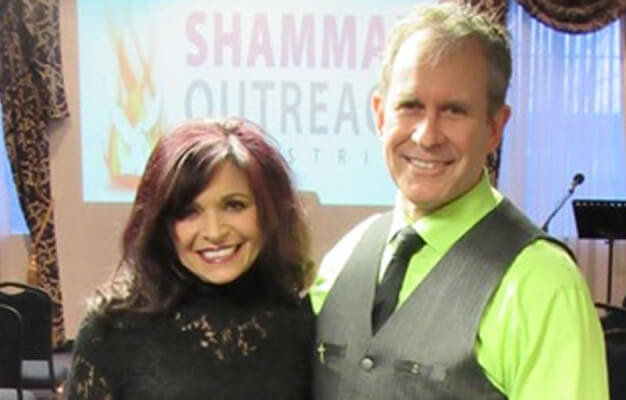 It is an intense time in 
the
 things of 
the
Kingdom
 and 
the
 Lord said, "Get ready for 
the
 intensity is coming and My people that are hungry for Me and willing to sacrifice it all will see 
the
 manifested Glory of God".
Well, we took that Word from 
the
 Lord very seriously and we knew that was us … hungry and willing to sacrifice it all and serve unto Him to see His glory manifested in 
the
 region that He brought us into.  We knew it was not going to be easy, and 
the
 fire is hot and 
the
 coals sometimes burn us, but greater is He in us than He that is in 
the
 world and we stand and keep moving and show ourselves approved under 
the
 blanket of 
the
 Fire of God.
It has been one year to 
the
 day (June 2018) since we stepped into 
the
 promised land and built and launched 
the
 Shammah Outreach Ministries' Revival House of Glory Apostolic Center in 
the
 region of Norfolk County in Ontario Canada.  Our healing and miracle encounters have been growing with people coming from near and far to receive all that God has for them.  We have had many come as spectators to see for themselves what this is all about, but have left in a new light, healed, delivered and set free from years of sickness, and oppression!!  People will come from afar to watch us burn for Him and they get infused with 
the
 Fire of God and don't leave 
the
 same.
In January of 2019, we also launched our Shammah Outreach Ministries' 
Kingdom
 Church – where we now also gather every Sunday morning for Worship Service.  People come and people go, but we are not giving up…. We have found that religious mind sets are strong in this area, and silos have overtaken 
the
 body of believers, however it is changing, and people are hearing and are starting to cry out for more of God.  We are releasing an awakening of 
the
 apostolic and prophetic atmospheres and igniting God's people into their destinies.  One transformed heart can change 
the
 world!
We also offered our first "School of Deliverance" this past April which was a two-day conference packed with training, teaching, and equipping 
the
 body of Christ about "Effective and Balanced Deliverance to Get 
the
 Results of Jesus"!  We had a great turn out with over 40 people in attendance and many traveled up to 6 hours to get to 
the
 Apostolic Center.
In May, Apostle Sandra also travel-led with one of 
the
 team members to Reunion Island – a French Colony off 
the
 coast of Madagascar and South Africa to do a 13-day crusade in 7 different churches and a Women's Conference with over 500 women in attendance.  This is now 
the
 second year there, and 
the
 Fire of God was so powerful that they have asked Sandra to come back again this summer to do another conference in 
the
 Paris, France area.  God is on 
the
 move!
We also have our upcoming "Understanding 
the
 Prophetic" Conference coming up June 7/8 where Apostle Angela Henderson and Apostle Alex Bonilla will be coming to Canada and training and teaching and bringing a powerful impartation with them to our great Nation and our Apostolic Center…..it will be transformational and life changing! We are pliable and teachable, and we want more!!
We have our second Women's Conference and our first Men's Conference lined up at 
the
 Apostolic Center for July and September 2019 and many other doors opening to usher in 
the
 greater glory as this is 
the
 time for revival in this Nation!  We have been set ablaze and are on fire for God…. An intense time indeed of realignments to ensure 
the
 Vision of God is synchronized to 
the
 frequency of heaven and that we are staying in tune with Him to see heavenly results.
Come visit us in Canada — we would love to have you and we thank you all for your continued love, support and fervent prayers!!  It's an intense time, but a good time to be part of His 
Kingdom
 assignments!
All events and event 
reports
 and pictures can be found at:
Facebook Page:
 Shammah Outreach Ministries
Facebook Page:
 Todd Smith
Facebook Page:
 Sandra Benaglia Smith
Website:
www.shammahoutreach.com
Freedom Fellowship: Uganda Missions 2019

Currently there are over 20 participants from 
the
 US and Australia taking part in this years Mission to Uganda. Our focus is on training leaders and visiting and meeting 
the
 needs of village churches. With 
the
 soon completion of 
the
 Ministry Center we will begin to train 
the
 local Pastors and have them complete 
the
 mandated training required recently by 
the
 government to maintain 
the
 status as church leaders.
We will be going to 
the
 northern part of Uganda to meet with our churches near 
the
 South Sudan border. These ministries work with some of 
the
 250,000 refugees from South Sudan and they have even began planting churches in South Sudan. We are also raising monies for 
the
 completion of 
the
 ministry center in Mbale. We have already raised enough money to buy 5 motorbikes for 
the
 regional leaders to assist them in traveling to 
the
 village churches to provide support and training.
We will also be providing food and school supplies to 
the
 orphans and widows of these communities as we travel through 
the
 country. We ask that you would keep us in prayer throughout our trip which is September 4th- 20th.God Bless,
Together in His service,Apostle Ki Coleman